Nature
Natural areas
Welcome to paradise
Come discover our nature paradise full of unforgettable places. Come and fill yourself with the strength and vitality of our Nature Reserves. Enter the heart of Doñana and feel the beat of its marshes, its beaches, its wildlife, its magical sunsets.

Fairytale-like nooks and corners, trails, lakes, aromas, flavours and feelings await you in the Sierra de Aracena and Picos de Aroche, where the traditional way of life of our people lives on, in perfect harmony with the natural environment of Parque de Emociones (Emotions Park).

Our delightful weather all year-round and the ability to enjoy the highest number of hours of gorgeous Spanish daylight will beckon you to experience the nature of Huelva in its purest state.

Experiencing Huelva through its spectacular, living and breathing nature, is an excellent choice that will no doubt lead you to one-of-a-kind sensations and experiences.
Doñana
A biological jewel
A wild world of spectacular nature and light await you in the live diamond that is Doñana, a diamond cut every day by the luminosity of our Atlantic and the fresh water of the R'o Grande. Every day, because Doñana is live light that permanently becomes marsh, lagoon, river, beach, reserve and town: a magical place that enchants all your senses.
A biosphere Reserve and World Heritage Site,
Doñana
is an organic mosaic whose beauty has been witnessed by Tartessians, Phoenicians, Greeks, Romans, Arabs, Analusians - ancient civilizations that left Doñana with their ancient wisdom, mythical oxen and mares of the breeze that shepherds the town of
Almonte
.
Doñana, a wetland for migratory birds from Africa and Europe, has skies with imperial wings, lagoons that are nests, and mangers throughout marshes and live dunes where the çnsares roost at the break of dawn. Doñana is so splendid, so gorgeous, that as soon as you approach her you can feel her magic.
Doñana, lynx and El Rocío, beat and light of the heart.
Telephone at which to arrange trips to Doñana:
959 430 432
.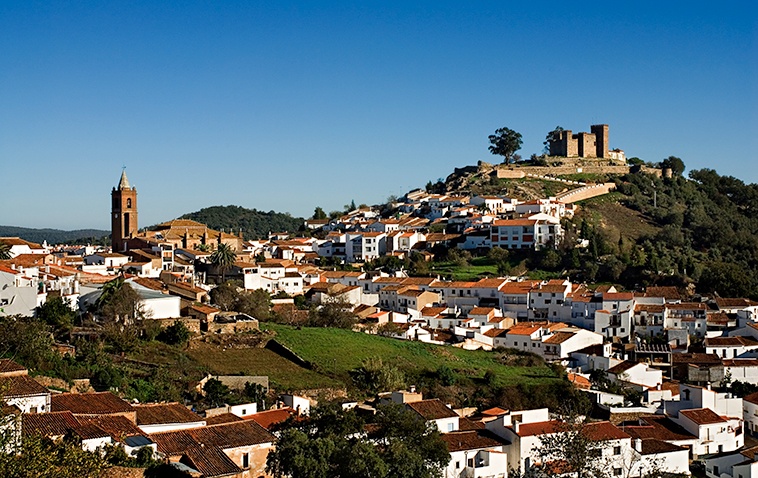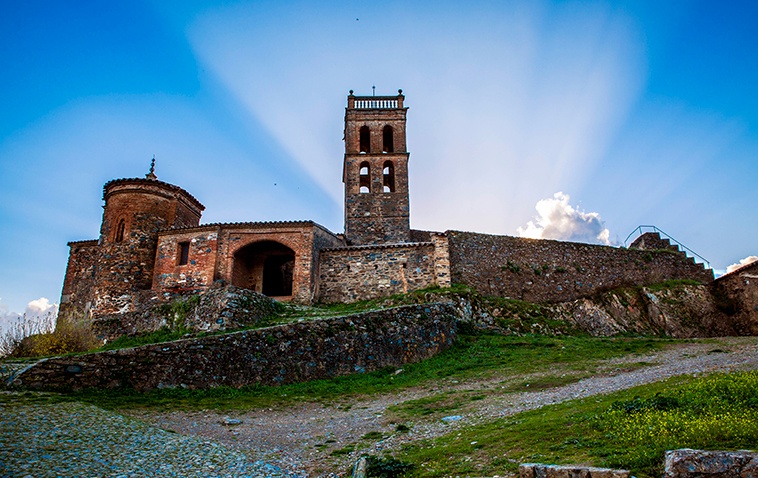 Sierra
Sierra de Aracena and Picos de Aroche, a park of emotions
Exciting moments await you in the Natural Park of Sierra de Aracena and Picos de Aroche. Starry skies cover the most beautiful, living and breathing landscapes, and a multitude of colours, flavours, aromas and feelings make our sierra a paradise for the senses that one cannot miss.

A privileged nature destination, jaw-dropping sights such as the Cave of Wonders, pastures full of light and more than a thousand kilometres of marked trails where the traditional way of life of our people live together in perfect harmony with the spectacular natural environment of the park.

The cuisine of these villages finds a universal appeal thanks to the jewel of the Iberian peninsula, Huelva ham, (which bears a Protected Denomination of Origin); this is supplemented by rich Iberian pork from our sierra, stews, seasonal mushrooms and an abundance of patiently and lovingly prepared traditional recipes distinguished by their natural ingredients and memorable flavours.

Let yourself be surprised by the magic and the cultural richness of our mountain towns. Their white houses, cobbled streets, medieval fortresses, beautiful churches and mosques such as the Mosque of Almontaster or La Peña de Arias Montano, along with their festivals and traditions will leave a mark on you on this exciting journey full of nature and the spark of life.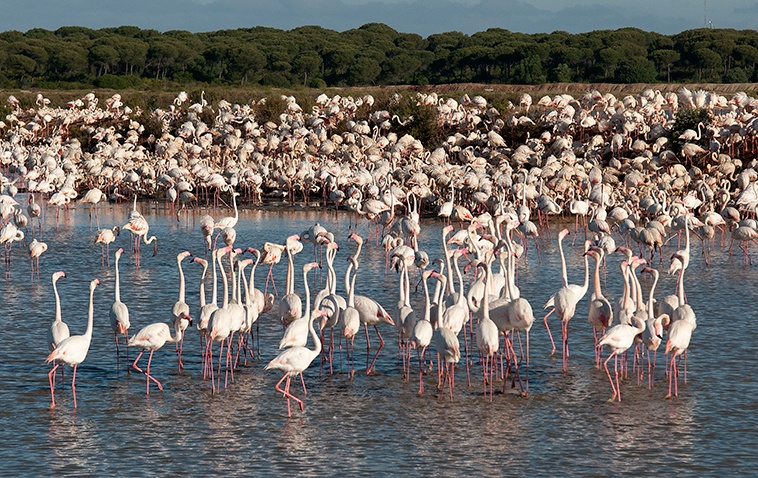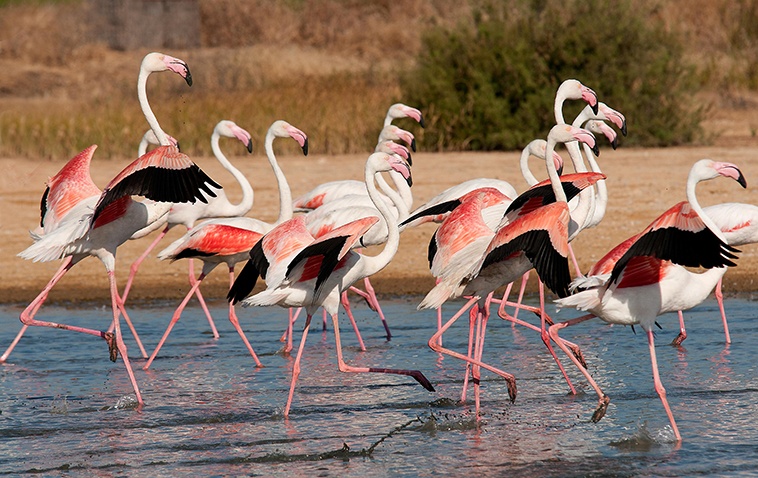 Marismas del Odiel
Nature in its pure form
On the coast of Huelva you will also encounter the Natural Park of Marismas del Odiel, which has been denominated as a Biosphere Reserve by UNESCO.
The rich fauna of the marshes includes the largest colony of spoonbills on the continent, home to about a third of Europe's population of these birds. The marshes are also the habitat of grey and purple herons, black storks, cranes and flamingos, plus some magnificent birds of prey.

This natural area has a Anastasio Senra visitor centre ('Calatilla'), which puts your disposal various resources that will help you better explore this earthly paradise. Among these are maps of freely accessible trails, which also show the various viewpoints, as well as an array of guided walks, train or boat tours that will offer you the opportunity to see wonderful birds such as flamingos.
A place of peace and tranquillity, where you can experience nature in its purest form.

Telephone number for arranging visits to the Odiel Marshes (Marismas del Odiel): +34 671 564 186.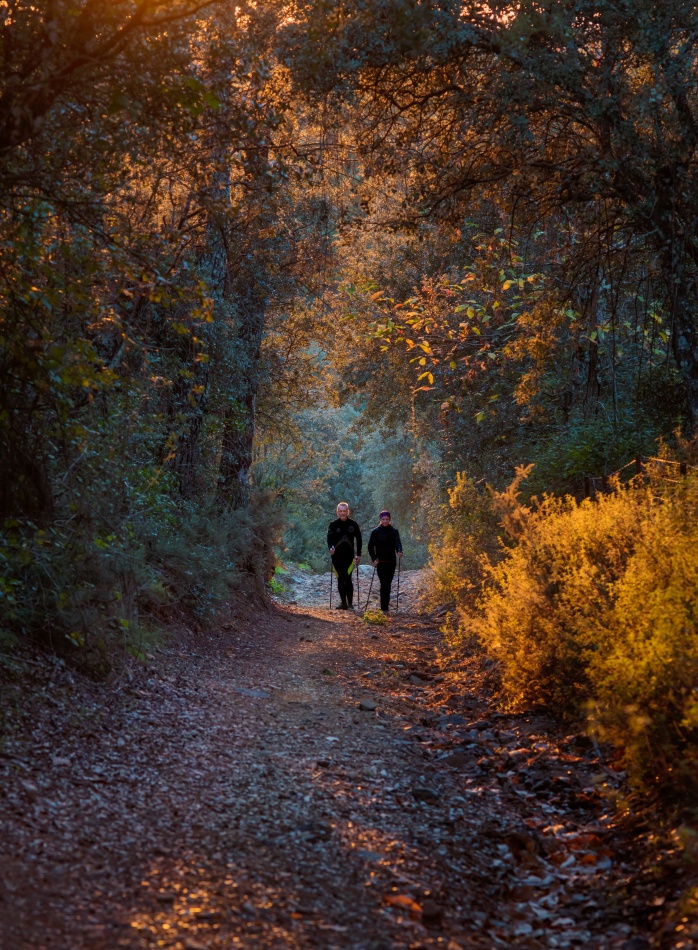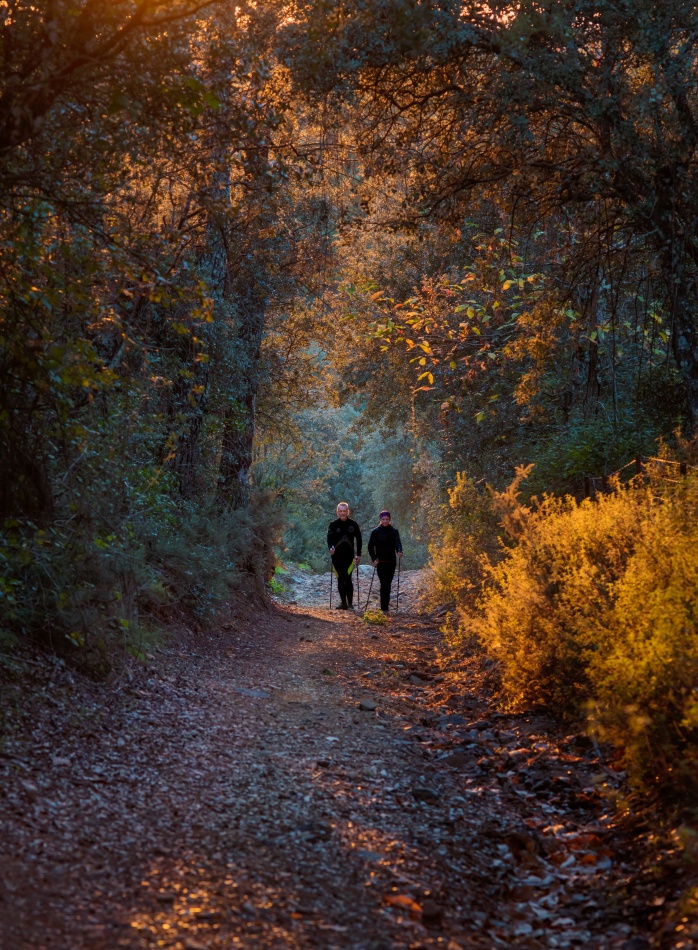 Sports
Your nature adventure
A sport is many things: will, effort, fun, but above all, it is discovering and experiencing strong emotions and sensations.
And this is why practicing a sport in a spectacular natural setting, such as this, heightens those emotions and feelings, allowing you an experience that goes beyond mere physical exercise.
The province of Huelva has many areas that are ideal for practicing sports in a natural setting. Coasts, sierras or mountains, rivers, wooded forests, or green pathways are some of the spaces in which you can enjoy a wide variety of sports such as mountain biking, mountain-climbing, river kayaking, nordic walking, orientation, gliding, caving, iron roads ("Vias Ferratas"), equestrian trails, hiking, tirolinas, bungee jumping, golf.
Discovering Huelva through sports, in the midst of nature, is an excellent holiday choice that will allow you to discover and experience undiscovered and one-of-a-kind corners of the peninsula.
Guidebooks
Download your guide in pdf format