Gastronomy
Taste Huelva
Huelva, the paradise of flavours!
Thanks to its privileged location, which combines coasts and mountain ranges within the same province, Huelva is a true paradise of flavour that will enchant all your senses. Vegetables garnished with spectacular olive oils complement seafood and meats and vinegars, which washed down with excellent Condado wines and followed by exquisite fruits and Andévalo sweets.
Iberian pork holds a place of honour in local cuisine - as they say, "...del cerdo hasta los andares (every part of a pig is used, down to his gait)" . The crown jewel is our Jamón de Huelva (Ham of Huelva) with Denominación de Origen Protegida (Protected Designation of Origin)

Moreover, apart from traditional dishes, you must also try the creative cooking done by our most fabled chefs, who offer subtle dishes and exquisite tapas, prepared from natural ingredients from our land, that satisfy even the most demanding of palates.

An endless variety of flavours, aromas y sensations: a true gastronomic experience that you'll be able to enjoy in the best of companies and in the most beautiful of places. Taste Huelva.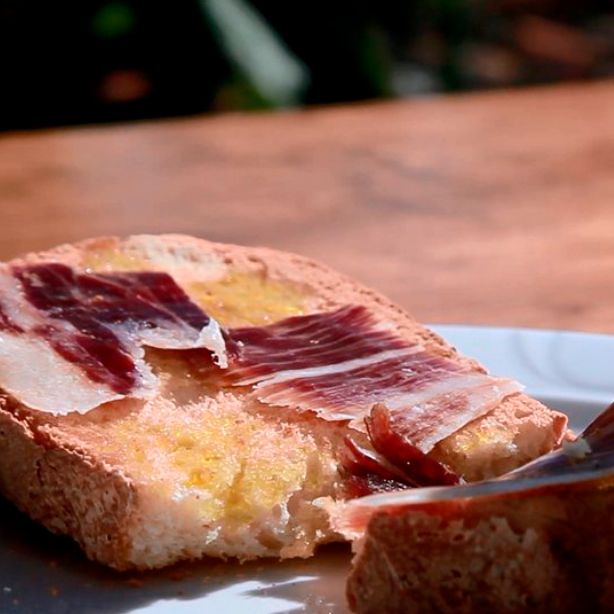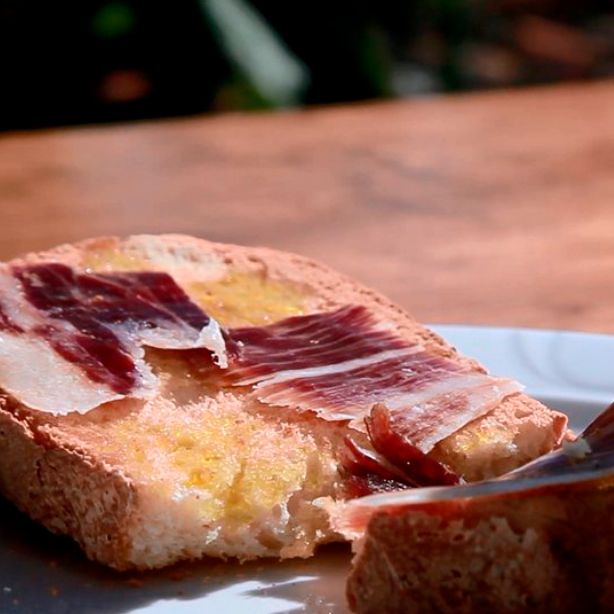 Sierra cuisine
In the heart of the Sierra de Aracena y Picos de Aroche there are infinite aromas and flavours that will delight you while enjoying this paradise on earth. Among the area's many jewels, the one that shines brightest is the most fabled Iberian ham of the Peninsula, the cream of the crop: our exquisite Huelva ham, labelled with the Protected Denomination of Origin.

The prized Iberian meat from local pigs, fed during the Montanera period (Iberian pigs are allowed to roam freely and to feed on acorns and wild grass), is the star of many traditional dishes that you can taste in every corner of the sierra. Apart from Huelva ham, you will find other fresh and cured meats fresh, which you can enjoy accompanied by the traditional serrano bread.

This rich mountain cuisine also prides itself on its soups and stews, which use only the best ingredients and are patiently cooked by locals using recipes that contain all the flavour and spark of life of its people.
Mushrooms are an important ingredient in our gastronomy, since our mountains are considered one of the spots with the most abundant production of fungi in Andalucia. Caesar's mushrooms, milk caps and slippery jacks sprout after the autumnal rains, while the prized mushroom par excellence is the "gurumelo" (Amanita ponderosa), which can be found in these unique mountains.

Goat's cheese, rosemary and lavender honey, chestnuts and walnuts, used in stews and in the renowned local pastries, are only some of the wonders that this land has to offer.

A one-of-a-kind gastronomic experience that you cannot miss. Nature, history and unforgettable flavours.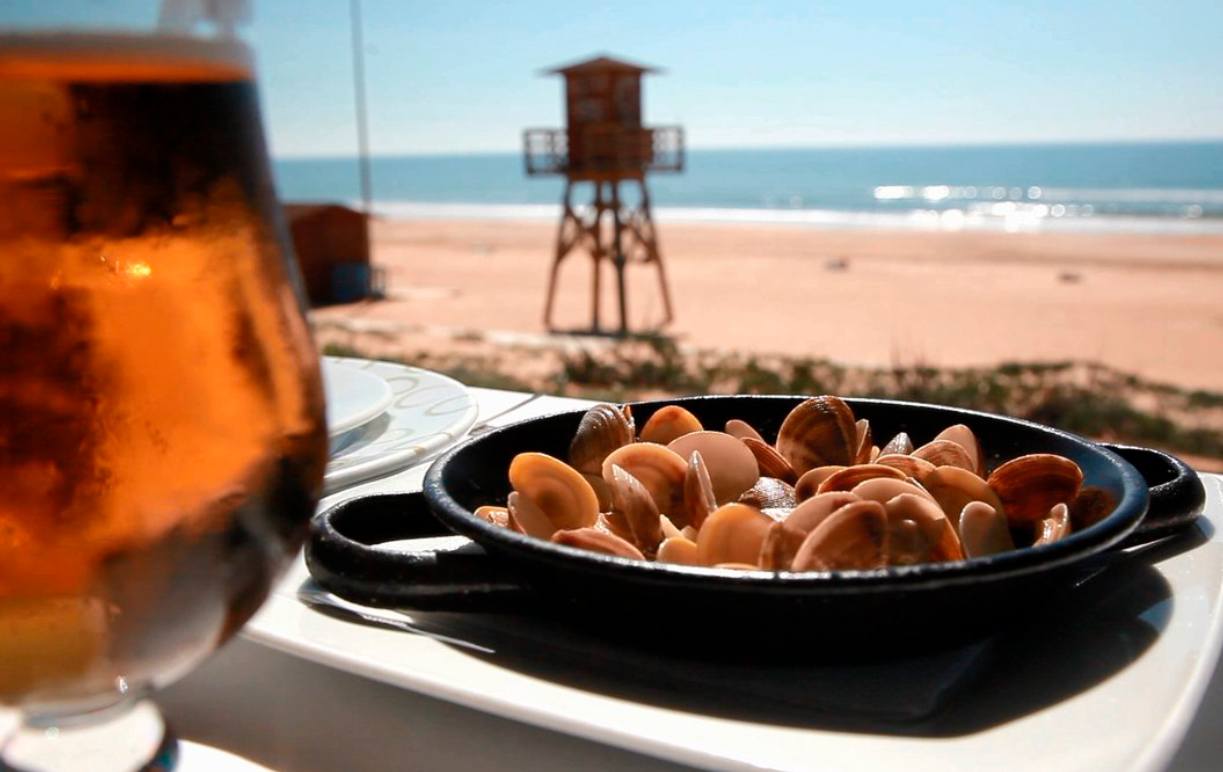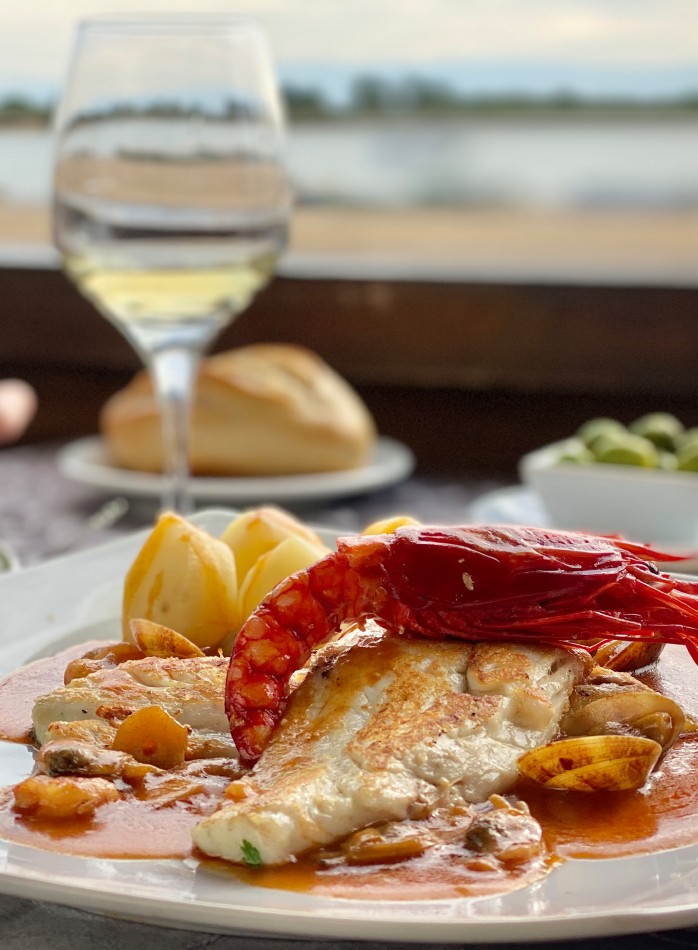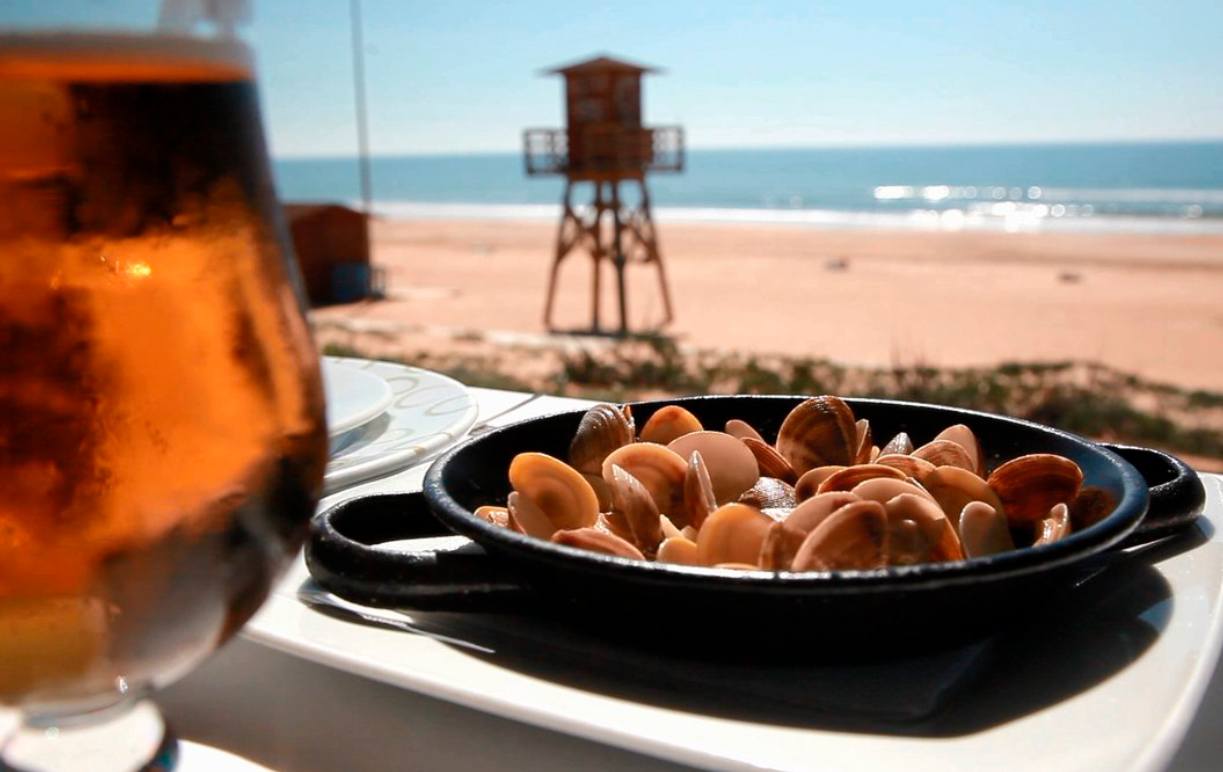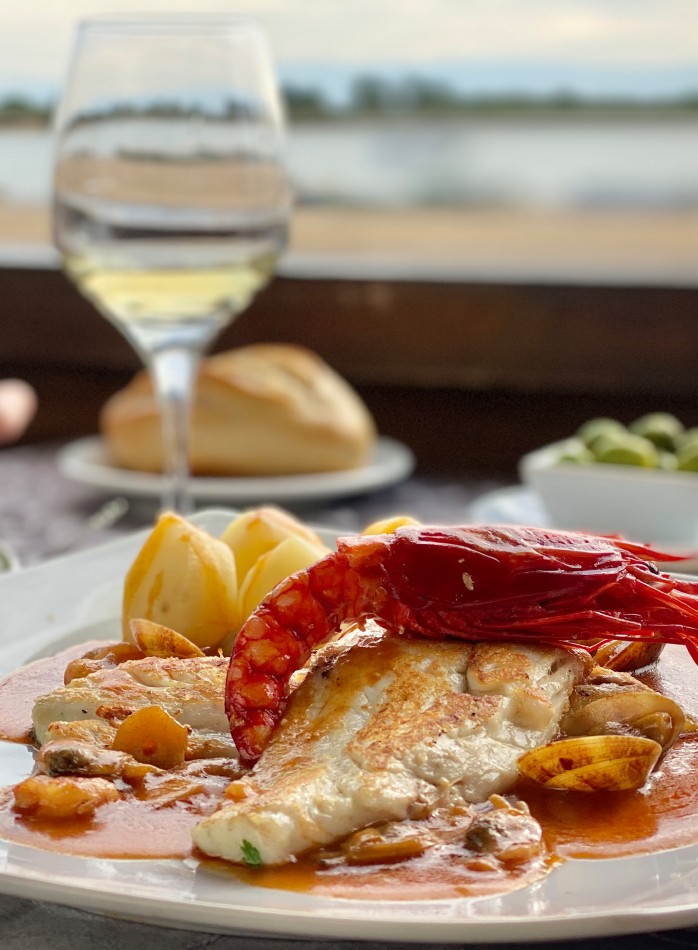 Seafood cuisine
The ancient seafaring tradition of Spain has left its traces in the variety of fish and shellfish that appear in the traditional Huelva cuisine. Cockles, clams, razor clams and baby clams that will delight even the most demanding of palates.

Enjoy the incomparable white Huelva shrimp while feeling the breeze on your skin on any of our innumerable beache.

Savour our rich and varied fish from tuna, sole and grilled or fried plaice, grilled sardines and mackerel, minced, or in a sailor's stew. The cuttlefish stew with beans as well as fried cuttlefish are equally indispensable in the gastronomy of our coast.

This seafaring tradition is also evident in the plethora of canned fish, from wind-dried tuna in salt, to canned mackerel or bullet tuna in olive oil.

The salt from Huelva's salt mines or from Isla Cristina is a natural product that is becoming rarer and rarer, it can be found in the many recipes of this land and underlines the area's strong connection with the sea.

Taste the sea, taste the south, taste Huelva.
Wine route
Experience Huelva through its wines
Wine is where nature and culture meet; it is part of the history of this land. This genealogical link is reflected, explained and justified in our Huelva County Wine Route, a must to get the most of the enotourism potential of our region, which has been associated with exquisite wines for millennia.

Thanks to the Huelva County Wine Route you can enjoy 11 unique experience that will enable you to discover the exciting world of our local wines and our beautiful province. There is a wide array of options for tourists that, using wine as a starting point and moving on to other local traditions, introduce visitors to the identity and history of the Huelva County and of the province in general. Bulls, horses, local cuisine, Columbian sites, monuments, railroads, healthy living and exquisite nature; let wine be your travel companion while you enjoy the many attractions of this county.


Wine cellars

Wine interpretation centre
The Wine Interpretation Centre of Huelva County, located in the Bollullos Par area of the county and founded in 2013, is a fantastic space that offers information about local wines in the environment where they are produced, explaining in detail each of the ingredients and the process of production of the wines. ,An interactive space that uses dynamic and gripping audio-visual projections.
Opening hours:


Mornings: Tuesday to Saturday from 10:00 to 14:00


Evenings: Tuesday to Saturday from 16:00 to 19:00


Calle San José, 2 (Bollullos Par del Condado) -
959 413 875
Andévalo Cuisine
The region of Andévalo has a simple, natural but mouth-watering cuisine full of nuanced and unforgettable ancient flavours that will make you feel like you have travelled in time. Its culinary foundations are rooted in what the earth provides and are enriched based on recipes with an ancient tradition.
Its seasonal cuisine offers the best livestock products, agricultural products and forest foods, as well as the biggest and best game in the region.

From pork, sausages, cabbage stews, roasted neck fillets to the traditional local stew, cachuela alosnera. After the first rains, gurumelos, a local type of mushroom, can be enjoyed in many tasty recipes. Roasted lamb, lamb stew and our famous cheese. Then there is also of course rabbit, partridge and venison sauce and wild boar, which feature in some exquisite traditional dishes.
And there's no spring festival without habas enzapatá (beans coated in pennyroyal), that flavours our kitchens and spring evenings in charming Andévalo.

Honey is the basis for countless recipes starting from, gañotes ("throats"), pestiños (honey-coated pancakes), flowers or coscaranes and a wide variety of desserts and pastries that are hard to imitate.
All this in a thousand and one varieties worth discovering.
Gastronomy Blog

Gastronomy News